NRCO Welcomes New Member
October 26, 2021                                   
National Renewables Cooperative Organization
welcomes new Class A member
 Central Electric Power Cooperative becomes 23rd Cooperative Member of NRCO
Carmel, IN – Membership in the National Renewable Cooperative Organization (NRCO) has grown to 23 following the addition of Columbia, South Carolina-based Central Electric Power Cooperative (CEPCI).
CEPCI has a growing portfolio of solar capacity through a combination of ownership and long-term agreements.
Electric cooperatives formed NRCO in 2008 to facilitate cost-effective joint contracting and development of renewable resources. NRCO functions as a clearinghouse for renewable development opportunities while aggregating its members' renewable energy needs. It provides its members with strategic advisory and market intelligence services on evolving renewable and related technologies. NRCO has helped its member owners develop and contract for over 2,000 MW of renewable energy, which provides energy to more than 7.8 million homes and 40 GW of electric load. NRCO's Members are located from the Rocky Mountains to the East Coast and from the Upper Midwest to the southeastern United States.
CEPCI is the wholesale power aggregator and transmission operator for 20 electric distribution cooperatives, which together deliver power to 1.5 million South Carolinians through 800,000 accounts. CEPCI has not owned generation historically, but with the development of solar technology and changes in supply, CEPCI has as a generation and transmission cooperative fostered the growth of solar capacity. CEPCI owns some solar generation outright, contracts with independent developers, and has enabled its member cooperatives to build community solar programs locally.
"When considering types of generation technology, we long ago changed our mindset from either-or approach to all-of-the-above-if-practical, which today includes solar," said Rob Hochstetler, CEPCI's president and CEO. "In typical co-op fashion, we like working with other cooperatives to make the job easier. NRCO will do that for us when it comes to solar."
"We are pleased that Central Electric Power Cooperative has joined NRCO as its 23rd Class A member. We have had the opportunity to work with CEPCI on a couple of projects over the years and look forward to assisting them in meeting their strategic objectives" said Todd Bartling, Interim CEO of NRCO.
About NRCO:
Cooperatives across the country formed the National Renewables Cooperative Organization (NRCO) to promote and facilitate the development of renewable energy resources for its members.  NRCO's main purposes are to provide ongoing opportunities for its members to contract and develop cost-effective renewable energy resources, helping its owners meet the requirements of voluntary and mandatory Renewable Portfolio Standards.  http://www.nrco.coop
About CEPCI:
Central Electric Power Cooperative, Inc. is a not-for-profit generation and transmission cooperative headquartered in Columbia, South Carolina. It was created in 1948 and is owned by 20 distribution cooperatives. Central and its member cooperatives provide power to approximately one third of South Carolina's population through the only statewide electric system. www.cepci.org
MEDIA CONTACTS:
Scott Bradtmiller, NRCO
Renewables Developer
(317) 344-7908,
New Hampshire Electric Cooperative Finalizes Standalone BESS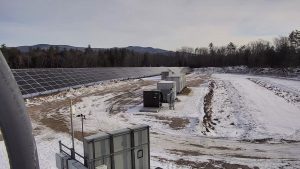 New Hampshire Electric Cooperative (NHEC) has announced the completion of its first utility scale energy storage project.  The 2.45MW standalone battery project was developed in partnership with Engie North America (ENGIE), a leading provider of energy storage services.
NHEC and NRCO began developing the project in 2018 and assisted NHEC with analysis of the economic value of the various use cases for the energy storage facility, helped negotiate the energy storage facilities contract, and helped see the project through to COD.
A full press release can be found here
Price Electric Cooperative Finalizes 100kWac Bifacial Solar Resource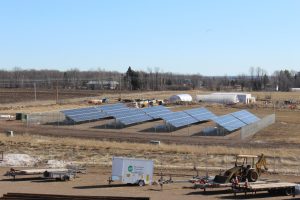 Price Electric Cooperative has completed a solar project at its headquarters in Phillips Wisconsin.  The sites consists of a 100kWac fixed tilt bifacial solar array.  The solar array was developed using NRCO's sCOOP program, which includes Price Electric as the Cooperative participating in the program, and RECORE LLC as the Tax Equity Investor (TEI).
NRCO helped Price Electric develop the site, conducted an RFP for an EPC (Carlson Electric), and managed the project from inception through final testing and to Commercial Operation (COD).  The completion of Price Electric's solar site makes 54 small scale solar projects NRCO has helped its members develop since initially creating sCOOP in 2014.
Old Dominion Electric Cooperative (ODEC) Solar RFP
NRCO, on behalf of ODEC, issued a 400MW solar RFP on April 27th, 2021.  ODEC is requesting solar projects to be submitted for review by May 27th, 2021.
Project submittals should be sited in VA, MD, DE.
For additional details about the RFP, please visit ODEC's Press Release
For questions about the RFP, please contact NRCO, and specifically Scott Bradtmiller (Scott.Bradtmiller@nrco.coop)
EKPC Issuing Solar & Wind RFP
East Kentucky Power Cooperative (EKPC) has issued a Request for Proposal seeking 50MWac Solar Photovoltaic (PV) power, and 10MW of Wind power via Power Purchase Agreement (PPA). EKPC is facilitating the RFP on behalf of their member Inter-County Energy Cooperative, where 100% of the renewable energy will supply Diageo's largest carbon-neutral distillery in North America.
The RFP is being run by National Renewables Cooperative Organization (NRCO), and lead by Michael Loenen, Senior Renewables Developer. For questions regarding EKPC's RFP, please contact Michael Loenen @Michael.Loenen@nrco.coop
The full EKPC / Inter-County Energy Cooperative / Diageo press release can be found here.
Big River's Electric Corporation (BREC) to purchase up to 260MW of solar from two developers
Big River Electric Corporation (BREC) and two developers, Community Energy and Geronimo, have executed power purchase agreements (PPA) to build a portfolio of solar assets totaling up to 260MW in western Kentucky. Community Energy will provide Big Rivers with up to 100MWs of energy located in Meade and McCracken Counties, and will be commercially available in early 2023. Geronimo will build 160MW facility located in Henderson/Webster County, and will be commercially available in early 2024.
According to Big Rivers President and CEO, Bob Berry, "Big Rivers is excited to add this renewable energy source to our portfolio for the sole benefit of our Member-Owners", "this is another example of our commitment to provide safe, reliable and sustainable energy for our Members."
NRCO managed the RFP and assisted in the PPA negotiations.
The full Big Rivers / Community Energy / Geronimo press release can be found here
Johnson Corner Project Commences Commercial Operation
Sunflower Electric Power Corporation (SEPC) and Lightsource BP have announced that Johnson Corner Solar Project entered commercial operation as of April 7th, 2020, and was constructed by Lightsource BP. Johnson Corner Solar Project is the result of NRCO and SEPC collaborating together to fully develop a shovel ready project. NRCO helped SEPC select the optimal site by scoring and ranking each potential site based on solar irradiance, impacts on LMPs, and grid impacts on harmonics and voltage control. Next, NRCO helped SEPC navigate the SPP Generation Interconnection Agreement (GIA) process by estimating and organizing costs, defining system impacts, and developing a timeline that fit the needs of SEPC's. NRCO then led and managed the RFP, rebidding the process twice to allow participants to rebid after the Section 201 tariffs were known, allowing developers to submit their best offers. NRCO then worked with SEPC to sell the development to Lightsource BP and become the PPA off-taker. At 20MWac, Johnson Corner is currently the largest solar project constructed in Kansas, more than doubling Kansas' current 14.1MW capacity.
The full SEPC/Lightsource BP press release can be found HERE
AECC's Wildhorse Wind is Operational
Arkansas Electric Cooperative Corp (AECC) and Southern Power have completed construction of the 100MW Wildhorse Mountain Wind Facility in Pushmatcha County, Oklahoma. Wildhorse Mountain consists of 29 wind turbines manufactured by Vestas.
The project was originated through NRCO's annual RFI Process, and NRCO advised AECC during PPA negotiations.
A full press release can be found here.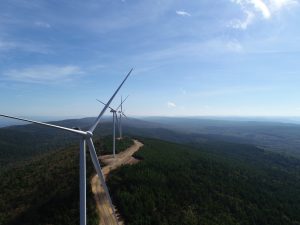 Franklin Rural Electric Cooperative Completes 3 150kW sites
Franklin Rural Electric Cooperative has completed solar projects at three locations in its service territory. Each site consists of a 149kW solar array, totaling about 450kW Franklin's CEO, Becky Bradburn, said Franklin "could easily save $15,000 – $20,000 in the first year alone" and will be a great benefit to Franklin's member-customers.
NRCO helped Franklin REC develop the sites, conducted an RFP for an EPC (Solential Energy), and managed the project from inception through final testing. The completion of Franklin's distributed solar project makes 53 small scale solar projects NRCO has helped its members develop since initially creating sCOOP in 2014.
A full press release can be found here.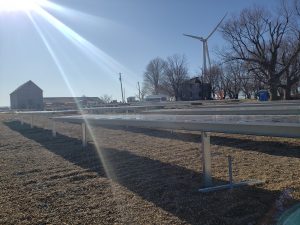 Lapetus Energy Project Ribbon Cutting
Brazos Electric Cooperative's and 7X Energy's, the originating developer, Lapetus Energy Project has finished construction of a 130MWac solar project located in Andrews County, Texas. The Lapetus Energy Project's will deliver fixed blocks of energy and be a Hub delivered product for Brazos Electric and its participating distribution members of 94MWs.
NRCO originated the project by running an RFP, and NRCO assisted Brazos and CoServ negotiating the PPA.
Additional detail about the project can be found here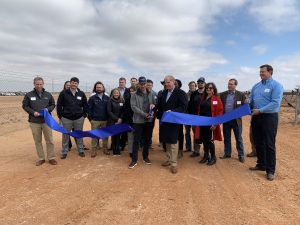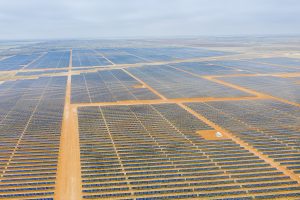 .