New Hampshire Electric Cooperative Finalizes Standalone BESS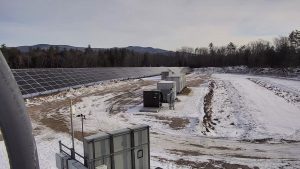 New Hampshire Electric Cooperative (NHEC) has announced the completion of its first utility scale energy storage project.  The 2.45MW standalone battery project was developed in partnership with Engie North America (ENGIE), a leading provider of energy storage services.
NHEC and NRCO began developing the project in 2018 and assisted NHEC develop the economic use case of the energy storage facility, helped negotiate the energy storage facilities contract, and helped see the project through to COD.
A full press release can be found here
Price Electric Cooperative Finalizes 100kWac Bifacial Solar Resource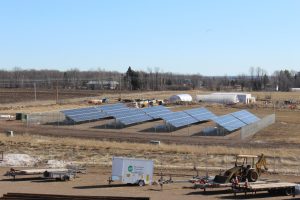 Price Electric Cooperative has completed a solar project at its headquarters in Phillips Wisconsin.  The sites consists of a 100kWac fixed tilt bifacial solar array.  The solar array was developed using NRCO's sCOOP program, which includes Price Electric as the Cooperative participating in the program, and RECORE LLC as the Tax Equity Investor (TEI).
NRCO helped Price Electric develop the site, conducted an RFP for an EPC (Carlson Electric), and managed the project from inception through final testing and to Commercial Operation (COD).  The completion of Price Electric's solar site makes 54 small scale solar projects NRCO has helped its members develop since initially creating sCOOP in 2014.
Old Dominion Electric Cooperative (ODEC) Solar RFP
NRCO, on behalf of ODEC, issued a 400MW solar RFP on April 27th, 2021.  ODEC is requesting solar projects to be submitted for review by May 27th, 2021.
Project submittals should be sited in VA, MD, DE.
For additional details about the RFP, please visit ODEC's Press Release
For questions about the RFP, please contact NRCO, and specifically Scott Bradtmiller (Scott.Bradtmiller@nrco.coop)
Nationwide Search Announced for National Renewables Cooperative Organization Chief Executive Officer
The National Renewables Cooperative Organization (NRCO) announces the launch of a nationwide search for a new Chief Executive Officer. The search follows the departure of former CEO Amadou Fall who joined North Carolina Electric Membership Corporation (NCEMC) as Chief Operating Officer.  The NRCO Board of Directors has retained CarterBaldwin Executive Search to assist in the identification of their next CEO.
NRCO was created in 2008 by 15 electric cooperatives who recognized that renewable generation technology was poised for widespread adoption across the U.S. The cooperatives realized the potential for renewables to revolutionize energy markets.
NRCO serves its members with renewable energy project origination and power purchase agreement (PPA) negotiations, site selection and development, legal advice, and finance and accounting expertise. Their services have resulted in more than 1,000 MWs of utility-scale and community renewable projects being installed for cooperatives in over 20 states.  NRCO has expertise in projects dealing with wind, solar, biomass, hydro, and coal bed methane, and is always searching for new innovations to provide value to its members.  NRCO is motivated to create innovative solutions to lead its members through the maze of new storage applications, new grid infrastructure projects, evolving federal and state policies, and emerging technologies that will solidify a clean and reliable grid.  Providing constant education on these evolving trends and technologies is an essential function of NRCO for its members.
Today, NRCO has 21 members that have a combined peak load of nearly 40 GWs and serve more than 7.6 million homes and businesses.  Membership in NRCO is open to generation and transmission cooperatives (G&Ts) and distribution cooperatives who have the legal ability to buy power in the wholesale market.
To learn more about the Chief Executive Officer opportunity at NRCO, please click here to view the profile. Application materials are being accepted now through June 11, 2021. Interested candidates should submit a letter of interest and resume to NRCOCEO@carterbaldwin.com. Chris Guiney, Partner, CarterBaldwin Executive Search will lead the search.

About CarterBaldwin Executive Search
CarterBaldwin is a retained executive search firm that partners with leading corporations, organizations, and institutions to help them build exceptional leadership teams. Its practice leaders have more than 100 years of combined executive search experience and are focused on delivering excellent results tailored to the unique goals and needs of every client. With C-level corporate search as its foundation, CarterBaldwin has expanded its client portfolio to include non-profit and academic sectors and has evolved from a regional firm to a national firm with international reach.
CarterBaldwin's Energy and Infrastructure practice, led by Chris Guiney, serves clients across the gas, electric power, renewables, cleantech, telecom, water, waste, mining, construction, and related infrastructure projects. As the energy and infrastructure sectors continue to rebound and with more focus on energy and infrastructure investing than ever before, CarterBaldwin has established a leadership position developing and building executive teams for our clients.
Hoosier Energy Rural Electric Cooperative to add 200MW of Solar
WINCHESTER, IN, April 6, 2018 – Hoosier Energy Rural Electric Cooperative, Inc. and EDP Renewables (EDPR) have executed a power purchase agreement (PPA) that will bring the 200 MW Riverstart Solar Park to Indiana's Randolph County. The solar park is expected to be operational in 2022 and will be the largest solar array in the state, producing enough clean electricity to power approximately 37,000 households. The project will also bring economic benefits to the region and to the state of Indiana in the form of jobs, landowner and tax payments, and money spent in local communities.
The full press release can be found here.
Central Iowa Power Cooperative adds 104MW of Wind
DATE: April 2, 2018
DES MOINES – Central Iowa Power Cooperative (CIPCO) announced development of the Heartland Divide Wind Farm, a major project to expand its wind energy platform, set for completion by the end of this year. CIPCO will purchase 100 percent of the output from the 104 MW facility owned by an affiliate of NextEra Energy Resources, adding to its already diverse energy portfolio, which is more than 60 percent carbon-free.
NRCO assisted CIPCO with the PPA review.
The full press release can be found here.
WVPA, Ranger Power to Triple Illinois Solar Capacity
Wabash Valley Power's member co-ops will benefit from recently completed long-term agreements to purchase the energy and capacity generated by what will be the largest solar arrays ever built in Illinois.
Wabash Valley Power will be the sole buyer of the energy produced from two 99-megawatt (MW) arrays to be built by New York-based Ranger Power, a utility-scale solar development company. Wabash Valley Power will purchase the power produced by the arrays, while the renewable energy credits (RECs) associated with the projects will be sold through the Illinois Power Agency REC procurement process.
The full press release can be found here.
Associated Electric Cooperative to add 236MW Missouri wind project
MARYVILLE, Missouri – Tenaska, one of the leading independent power producers in the United States, has signed a long-term power purchase agreement (PPA) with Associated Electric Cooperative Inc. (Associated) with a capacity of approximately 236 megawatts (MW) of renewable power from a wind project in northwest Missouri.
The Tenaska Clear Creek Energy Center project, currently in advanced development, is located near Maryville in Nodaway County. Under the terms of the 25-year PPA that was announced Monday at an event at Northwest Missouri State University, the project is anticipated to be operational in 2020.
The full press release can be found here.
Southern Maryland Electric Cooperative and Origis Energy Announce New 27.5 MWAC Solar Power Project
In the summer of 2016, the National Renewables Cooperative Organization (NRCO) released a Request for Proposals on behalf of Southern Maryland Electric Cooperative (SMECO) for solar energy supply. This process culminated in a Power Purchase Agreement award to Origis Energy USA for the 27.5 MWAC Ripley Solar project.
SMECO worked with the NRCO to develop a request for proposals and evaluated approximately 20 submissions before selecting Origis Energy. According to Austin J. Slater, Jr., SMECO's president and CEO, "Ripley Solar is the third solar project that NRCO has facilitated for SMECO, and their expertise has been invaluable. Developing solar projects right here in our service area gives us a couple of advantages. Not only are we able to procure renewable energy to help meet state requirements, but we are also able to avoid costly transmission fees."
The full press release can be found here: Ripley Solar Press Release
EKPC Breaks Ground on Solar Farm in Clark County, KY
NRCO Member EKPC has begun construction on a 60-acre, 32,300 panel solar farm near their headquarters in Clark County, KY. The cooperative will be offering a community solar program off of this 10 MW-dc solar site. Interested customers should inquire here.
The full press release can be found on EKPC's website, here.