NRCO's Interim Chief Executive Officer (CEO)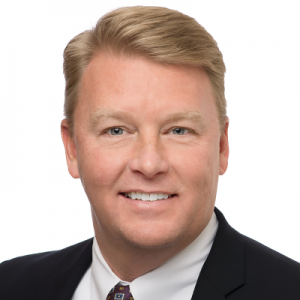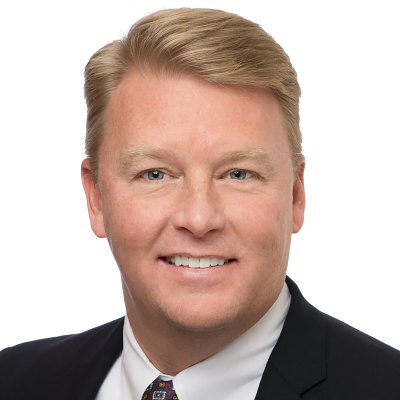 National Renewables Cooperative Organization (NRCO) today announced its Board of Directors appointed Todd Bartling, NRCO's Vice President of Renewables Development, to serve as interim Chief Executive Officer. The appointment is effective February 15, 2021 following the previously announced departure of CEO Amadou Fall.
"We appreciate Todd taking on an expanded role during the CEO selection process," said Andrew Lachowsky, NRCO's Board President. "Todd has made significant contributions to NRCO's success during his 11-year tenure, including leading the company's development and origination efforts. We are confident Todd's understanding of electric cooperatives and the services NRCO provides will enable a seamless transition during this interim period."
"The NRCO team has a passion and commitment to delivering for our members and customers," said Bartling. "I am excited to lead the continued execution of our strategy."
About Todd Bartling
Mr. Bartling joined the National Renewables Cooperative Organization as the Director of Renewables Development in March of 2009. His responsibilities include leading a team of renewable energy developers in the development, project structuring, financial valuation, risk assessment, deal negotiation and origination of renewable projects for joint participation by NRCO members. Prior to joining NRCO, Mr. Bartling held senior positions at ACES as the Director of Member-Client Services and the Director of Structuring. Prior to working in the energy industry, Mr. Bartling worked in Technology Consulting and Investment Banking. Mr. Bartling is a Chartered Financial Analyst and has a Masters of Business Administration degree from Indiana University.
NCEMC Names Amadou Fall as New Chief Operating Officer
North Carolina's Electric Cooperatives Names Amadou Fall as New Chief Operating Officer
Raleigh, N.C. (Jan. 20, 2021) – North Carolina's Electric Cooperatives, the family of three organizations that serves the state's network of 26 electric distribution cooperatives, has named Amadou Fall as chief operating officer of its generation and transmission organization, North Carolina Electric Membership Corporation (NCEMC). Fall will help lead and execute the cooperatives' vision of building a brighter future for co-op members and communities through energy innovation and the provision of reliable, affordable and sustainable electricity and services.
"Amadou has a long track record of success in our industry, and we're fortunate to be gaining his knowledge and expertise in diverse energy portfolio management, risk management, transmission modelling and congestion analysis, and renewable energy, particularly as we work to enhance grid management and achieve the carbon-reduction goals set forth in our Brighter Future vision," said Joe Brannan, executive vice president and CEO of North Carolina's Electric Cooperatives. "He has worked with electric cooperatives throughout the nation, and his breadth of market and industry experience will put us in a position of strength as we continue to navigate a changing environment and engage with the people and communities we serve."
Fall will join North Carolina's Electric Cooperatives in mid-February after serving as chief executive officer of the National Renewables Cooperative Organization (NRCO) since 2008. Based in Indiana, NRCO was formed by electric cooperatives across the country to facilitate the development and deployment of renewable energy resources. Fall will succeed Mike Burnette, NCEMC's current SVP and COO, who is set to retire in mid-2021 after a 33-year career serving North Carolina's electric cooperatives and their consumer-members and communities.
"I am pleased to be joining one of the nation's largest generation and transmission cooperatives, and look forward to ensuring that North Carolina's electric cooperatives remain an industry leader as they continue to deliver reliable, affordable and sustainable power and pursue innovative solutions for their members," Fall said.
Throughout his career, Fall has served as an innovator who has initiated and developed key solutions and products in an evolving electric industry. He has held various roles at cooperatives, investor-owned utilities and diversified energy companies. Prior to taking on the role of NRCO's first CEO, Fall was an officer at ACES Power, managing regulatory, scheduling and transmission services for the portfolios of ACES members and customers.
Fall holds a Bachelor of Science in electrical engineering from the New York Institute of Technology and a Master of Science in engineering management from Drexel University.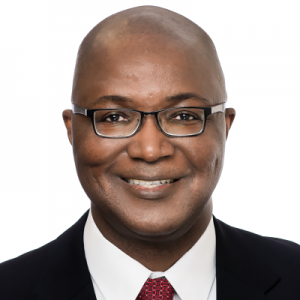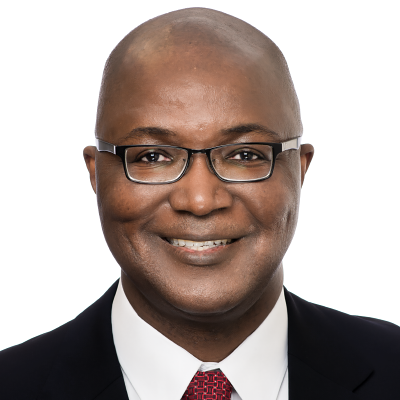 Amadou Fall, NCEMC's new chief operating officer
Driven by service and inspired by innovation, North Carolina's electric cooperatives are building a brighter future for 2.5 million North Carolinians. Beyond providing electricity, each of the 26 not-for-profit cooperatives is investing in their communities and delivering new energy solutions to improve quality of life for co-op members in 93 of North Carolina's 100 counties. www.ncelectriccooperatives.com
EKPC Issuing Solar & Wind RFP
East Kentucky Power Cooperative (EKPC) has issued a Request for Proposal seeking 50MWac Solar Photovoltaic (PV) power, and 10MW of Wind power via Power Purchase Agreement (PPA). EKPC is facilitating the RFP on behalf of their member Inter-County Energy Cooperative, where 100% of the renewable energy will supply Diageo's largest carbon-neutral distillery in North America.
The RFP is being run by National Renewables Cooperative Organization (NRCO), and lead by Michael Loenen, Senior Renewables Developer. For questions regarding EKPC's RFP, please contact Michael Loenen @Michael.Loenen@nrco.coop
The full EKPC / Inter-County Energy Cooperative / Diageo press release can be found here.
Big River's Electric Corporation (BREC) to purchase up to 260MW of solar from two developers
Big River Electric Corporation (BREC) and two developers, Community Energy and Geronimo, have executed power purchase agreements (PPA) to build a portfolio of solar assets totaling up to 260MW in western Kentucky. Community Energy will provide Big Rivers with up to 100MWs of energy located in Meade and McCracken Counties, and will be commercially available in early 2023. Geronimo will build 160MW facility located in Henderson/Webster County, and will be commercially available in early 2024.
According to Big Rivers President and CEO, Bob Berry, "Big Rivers is excited to add this renewable energy source to our portfolio for the sole benefit of our Member-Owners", "this is another example of our commitment to provide safe, reliable and sustainable energy for our Members."
NRCO managed the RFP and assisted in the PPA negotiations.
The full Big Rivers / Community Energy / Geronimo press release can be found here
Johnson Corner Project Commences Commercial Operation
Sunflower Electric Power Corporation (SEPC) and Lightsource BP have announced that Johnson Corner Solar Project entered commercial operation as of April 7th, 2020, and was constructed by Lightsource BP. Johnson Corner Solar Project is the result of NRCO and SEPC collaborating together to fully develop a shovel ready project. NRCO helped SEPC select the optimal site by scoring and ranking each potential site based on solar irradiance, impacts on LMPs, and grid impacts on harmonics and voltage control. Next, NRCO helped SEPC navigate the SPP Generation Interconnection Agreement (GIA) process by estimating and organizing costs, defining system impacts, and developing a timeline that fit the needs of SEPC's. NRCO then led and managed the RFP, rebidding the process twice to allow participants to rebid after the Section 201 tariffs were known, allowing developers to submit their best offers. NRCO then worked with SEPC to sell the development to Lightsource BP and become the PPA off-taker. At 20MWac, Johnson Corner is currently the largest solar project constructed in Kansas, more than doubling Kansas' current 14.1MW capacity.
The full SEPC/Lightsource BP press release can be found HERE
ODEC Increases Portfolio of Distributed Solar Projects
Old Dominion Electric Cooperative (ODEC) has increased its distributed solar portfolio to 15 projects, providing 60MWac of solar in Virginia, Maryland, and Delaware. The 15 projects are expected to be in service 2021, further diversifying ODEC's generation portfolio.
NRCO originated the projects from a competitive RFP process, and NRCO advised ODEC during PPA negotiations.
A full press release can be found Here
AECC's Wildhorse Wind is Operational
Arkansas Electric Cooperative Corp (AECC) and Southern Power have completed construction of the 100MW Wildhorse Mountain Wind Facility in Pushmatcha County, Oklahoma. Wildhorse Mountain consists of 29 wind turbines manufactured by Vestas.
The project was originated through NRCO's annual RFI Process, and NRCO advised AECC during PPA negotiations.
A full press release can be found here.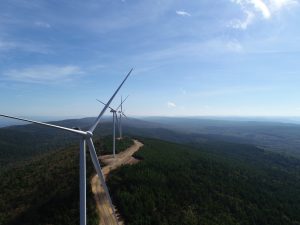 Franklin Rural Electric Cooperative Completes 3 150kW sites
Franklin Rural Electric Cooperative has completed solar projects at three locations in its service territory. Each site consists of a 149kW solar array, totaling about 450kW Franklin's CEO, Becky Bradburn, said Franklin "could easily save $15,000 – $20,000 in the first year alone" and will be a great benefit to Franklin's member-customers.
NRCO helped Franklin REC develop the sites, conducted an RFP for an EPC (Solential Energy), and managed the project from inception through final testing. The completion of Franklin's distributed solar project makes 53 small scale solar projects NRCO has helped its members develop since initially creating sCOOP in 2014.
A full press release can be found here.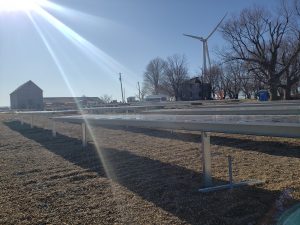 Lapetus Energy Project Ribbon Cutting
Brazos Electric Cooperative's and 7X Energy's, the originating developer, Lapetus Energy Project has finished construction of a 130MWac solar project located in Andrews County, Texas. The Lapetus Energy Project's will deliver fixed blocks of energy and be a Hub delivered product for Brazos Electric and its participating distribution members of 94MWs.
NRCO originated the project by running an RFP, and NRCO assisted Brazos and CoServ negotiating the PPA.
Additional detail about the project can be found here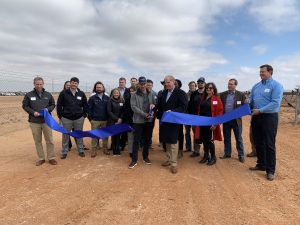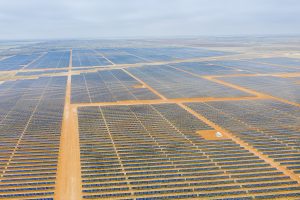 .
ODEC & EDF Partner to Develop 30MW Portfolio of Distributed Solar
Old Dominion Electric Cooperative (ODEC) and EDF Renewables North America have executed a power purchase agreement (PPA) that will bring 30MWs of solar capacity from a portfolio of distributed solar projects across ODEC's member service territory in Virginia, Maryland, and Delaware. ODEC will purchase 100% of the energy starting in mid-2020 through 2021.
NRCO helped ODEC find and evaluate quality partnerships with a variety of qualified developers.  NRCO led the RFP design, solicitation, evaluation, and selection process and will lead negotiations of the PPA.  NRCO also has an on-going advisory role to ODEC in the development of the projects.
The full ODEC/EDF press release can be found here